A Vendian-Cambrian Island Arc System of the Siberian Continent in Gorny Altai (Russia, Central Asia)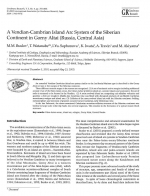 An extended Vendian-Cambrian island-arc system similar to the Izu-Bonin-Mariana type is described in the Gorny Altai terrane at the margin of the Siberian continent.
Three different tectonic stages in the terrane are recognized. (1) A set of ensimatic active margins including subducted oceanic crust of the Paleo-Asian ocean, the Uimen-Lebed primitive island arc, oceanic islands and seamounts: the set of rocks is assumed to be formed in the Vendian. (2) A more evolved island arc comprising calc-alkaline volcanics and granites: a fore-arc trough in Middle-late Cambrian time was filled with disrupted products of pre-Middle Cambrian accretionary wedges and island arcs. (3) Collision of the more evolved island arc with the Siberian continent: folding, metamorphism and intrusion of granites occurred in late Cambrian-early Ordovician time. In the late Paleozoic, the above-mentioned Caledonian accretion-collision structure of the Siberian continent was broken by large-scale strike-slip faults into several segments. This resulted in the formation of a typical mosaic-block structure.